Of course, I've not been inside our nephew's brain, but judging from his actions, his brain must be going 100 miles an hour, nonstop. It is not possible to focus on chores or problem-solving when one's brain is racing in that manner.
Strong sitting helps children find self-control and patience. In order to accomplish tasks and function properly, children need to learn to quiet themselves emotionally and physically.
If your child has problems staying dry, you should use a rubber-backed rug which he can clean when he's finished.
Pick a spot where your child will be doing his strong sitting. It should be safe and comfortable for him and free from distractions. I pick a spot that is in my view so that I can monitor his sitting while doing something else, usually he strong sits just inside the door to his bedroom, which is directly across from the door to my office. I use my computer while he sits, and glance over at him every minute or so.
He sits with his legs folded Indian-style, his head still and straight ahead, and his back straight. His hands can be on the floor, on his thighs, or in his lap.
Eliminate distracting noise or pets. In the beginning, strong sitting seems to be extremely difficult for these children, and they are easily distracted. Over time, add a noise or activity, so that he can get stronger and can focus despite distractions.
Nancy Thomas suggests starting children with 3-5 minutes and working up to 1 minute per year of age. (If the child is 8, he should sit for 8 minutes; if he is 10, he should sit for 10 minutes.) If the child has ADD or ADHD, have them sit for 2 minutes per year of age. (If the child has an attention disorder and is 8, he should sit for 16 minutes; if he is 20, he should sit for 10 minutes.) Children should not sit for more than 20 minutes.
Your job is to be a barely-there coach. Use no negatives while your child is strong sitting (In fact, you may have noticed that it is often best to use no negatives in any part of a radish's life).
Also, do not let the child control when he starts. When our nephew does not want to do his strong sitting, he will often fidget or begin furiously scratching his head, his back and legs in one of his routine stalling techniques. I say something like this: «Okay, I know you're not very strong right now, so take some time to get all the movement out of your system, and we'll start in 5 minutes.» He will invariably counter with a time of his own, such as: «No. I'm ready now!» I smile sweetly and say, «I'm not. we'll start when I'm ready.»
If he appears incapable of doing the entire thing, I allow him to do «weak sitting,» but at a 3:1 ratio. So he can sit strong for 20 minutes, or he can do «weak sitting» for an hour. He will most likely opt for strong sitting.
If he simply refuses to complete his strong sitting, I remind him that if he's too weak to do his sitting, he will have to stay in his room and rest until he's strong enough to do it. He has tested me on this and knows it's true, so the skirmish is usually very short.
Last Modified on: Saturday, August 08, 2009
If your browser does not support our flash navigation, click the orange site map image on the top of the page.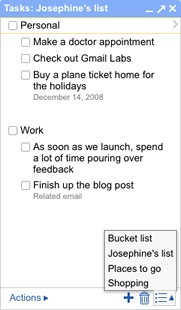 One point made by Prabhakar Raghavan, head of Yahoo! Research, during his talk at the FBK retreat was "People don't want to search, people want to get their tasks done". Search engines in fact try to infer the intent behind the query text and the intent of the user is getting a certain task done. And they try to offer information able to satisfy that intent. This made me think a bit.
Well, if I was a search engine, I would try to get the tasks lists of all my users. This will really make my users satisfied (and there is no more need to try to infer the intent behind search queries)!
Not a very original thought anyway, in fact, the search engine Google already provided the functionality of keeping your tasks list in Gmail and I started trying it recently. What is terribly amazing is that now Google can work offline on my tasks list and try to get MY tasks done! Automatically!
Out of curiosity, I checked the task list I currently keep in Google and I quickly realized that this is possible, already possible!
Some tasks in my task list (and, yes, I need to update the already scary list of things Google knows about you ) were:
find someone to subrent a room in my apartment
find someone able to install a music player in my car
find a bed, possibly an used one as gift
check new activity on the Livememories wiki
fill burocracy about my work in univ of bolzano
write a paper about recent work on trustlet and get it published
book a flight for xyz around date abc
Well, for some of these tasks Google can already go around and suggest me solutions, just by juxtaposing relevant bits of information; for some can even go further and really do the task, for example I can authorize Google to search the flight and buy it for me without any intervention on my part!
just Imagine you have in the specific task page (such as http://www.google.com/paolo.massa/tasks/book_a_flight/ ) a list of suggestions or of automatic actions Google can perform or has already performed. This is really feasible, especially because now this can be done offline, I don't expect Google to get the task done in the very precise moment I type it (while instead I expect Google to give me back relevant information in the moment I type a query!).
Of course Google cannot move my car and install a music player in it, but when we will move in the Internet of things (another topic that was very central in most talks at the FBK retreat) this might even become possible.
So let us analyze the possible situation in which we are/will be: now I have a robot (a software artifact, the search engine Google or Yahoo! or another one) that is replacing me in doing my stuff! Well of course we might start asking ourselves "if I am no more needed for getting things done, what is my role on earth? And why in the hell (!) would any employer pay me for what I do or I could do?". And of course, the very next step would be "ok, robots can do everything. What about humans?" and then I would end in the not-very-original-I-must-admit forecast of a future Matrix-like world. But maybe it is better if I stop here 😉
Now this gives totally new dimensions to "getting things done "!
Benjamin Loeb
Resume
Executive and Administrative Experience
International Conducting Workshop and Festival, Founder, Artistic and Executive Director
Maintain vision of the Festival to provide the highest international level of performance and education
Create annual budget with managed growth over six years from $35,000 to $155,000 including yearly audit
Engage faculty, soloists, and staff and negotiate all fees
Negotiate fees with hosting organization including those relating to orchestra personnel, recording fees and rights, hotel, transportation, publications and salaries, duties
Collaboratively coordinate and maintain with host orchestra a minute-by-minute, multi-level schedule including all concert and workshop programming
Screen and review all conducting applicants and determine financial aid awards through application review (valued at $35,000 last year)
Conceptualize and implement with host orchestra, faculty and guest artists all marketing, publicity, and promotion strategy including website design and maintenance
Oversee all aspects of operations including regular production and staff meetings and administrative assistant training
Create all PR including TV and radio appearances, newspaper interviews, and press releases for local and international newspapers
In collaboration with high level government agencies (i.e. US Embassy, British and Dutch Consulates) develop special scholarships for Bulgarian and other in-need musicians (Syria and Costa Rica, i.e.)
Plan and execute fundraisers
El Paso Symphony Youth Orchestras (EPSYOs), Founder, Executive and Music Director
Created vision of structure and mission of the orchestra system
Formed 15-member EPSYOs Board in conjunction with El Paso Symphony Association Board and led regular staff and Board meetings
In collaboration with EPSO executive administration and EPSYOs Board created and implemented short- and long-range budget of over $400,000 with each of three years showed a 30% increase in budget size with a 15-20% surplus
Personally raised over $300,000 in individual and corporate donations
Wrote and secured grants, including a $15,000 NEA Learning in the Arts grant and a 2009 $25,000 NEA Stimulus Grant
Designed short and long-range calendar in conjunction with other community arts organizations
Designed publicity material, wrote press releases, and oversaw the development and maintenance of the website
Canvassed and addressed all high school and middle school music program within 60 miles radius of El Paso
Auditioned over 500 young musicians and devised and implemented financial aid guarantee
Hired additional staff including Administrative Director, Communications Director and staff conductors
Coordinated all PR including personal appearances on TV and radio and extensive newspaper interviews
Benjamin Loeb Ensemble, Founder and Artistic Director
Hired soloists and orchestra musicians and negotiated fees
Planned and coordinated all aspects of touringBooked concerts and tours and coordinated marketing with presenters, including writing press releases
Created rehearsal long- and short-term schedule
Promoted and organized recording sessions and marketed and distributed recordings
Conducted all concerts
Maintained music library
Managed 95-person orchestra
Organized and managed $60,000 budget including short- and long-term financial and artistic planningOrganized and oversaw all aspects of international and national touring including travel, housing, visa, personnel, marketing, publicity and promotion, repertoire, library, funding, and operations
Created and coordinated fundraisers; annual marketing and publicity; developing short- and long-term marketing strategy
Reported regularly to board of trustees, overseeing and managing all administrative subcommittees
Supervised all areas of orchestra operations
Negotiated with school and department administration all schedule and funding issues
Oversaw all auditions and audition planning
Assessed artistic level of individuals and orchestra with Music Director
Concurrently maintained a full academic schedule (with B+ GPA) and a full piano performance schedule
El Paso Opera (El Paso, TX ), Assistant Conductor
• Cover-conducted all rehearsals and performances: Bizet's Carmen and Mozart's Cosi fan tutte
• Conducted occasional staging rehearsals
• Edited and ran supertitles during performances
• Accompanied cast members and Music Director in occasional performances
Haddonfield Symphony (now Symphony in C) (Haddonfield, NJ), Assistant Conductor
• Cover-conducted all concerts and rehearsals
• Conducted on Family, Youth and Subscription concerts
• Attended and participated in Board meetings
• Participated in and occasionally led pre-concert lectures
• Participated in personnel auditions
• Led outreach for students aged 6-16
• Wrote materials for presentation to students
• Created orchestral arrangements for new chamber orchestra outreach
• Worked with all orchestra administration including marketing, development, personnel, and operations
• Traveled by car for all performances, rehearsals and outreach, from New York and Baltimore to the Philadelphia and South New Jersey area
Greater Bridgeport Symphony (Bridgeport, CT), Assistant Conductor
• Cover-conducted for all rehearsals and concerts
• Attended and participated in repertoire meetings with board
Peabody Opera Department (Baltimore, MD) Associate Conductor
• Cover-conducted three opera performances – Mozart's Cosi fan tutte (Italian), Strauss' Ariadne auf Naxos (German and English) and Britten's Midsummernight's Dream (English)
• Coached singers in arias and ensembles
• Conducted some staging rehearsals
Geffen, Interscope and Artemis Records (New York, NY and Los Angeles, CA) Conductor of orchestral accompaniments for Lisa Loeb
• Contracted orchestra and arrangers and prepared all musical parts
• Worked within budget and schedule
• Arranged and flexibly rearranged parts during the recording sessions
• Coordinated schedule with artists managers and recording engineers
International Conducting Workshop and Festival , Conducting Faculty
• Teach all conducting participants and auditors in sextet and orchestra sessions
• Lead videotape learning sessions
• Present score study and analysis classes
• Offer individual technique and career advisement
• Write letters of recommendations for participants
• Review resumes and video materials of participants
Heifetz International String Festival (Annapolis, MD), Piano Faculty
• Instructor/Coordinator of Accompanying and chamber music
• Created rehearsal and coaching schedule for over 30 students
• Accompanied over 20 master classes and performances with students
• Performed on faculty chamber music concerts
• Coached student chamber groups in variety of repertoire
Related Posts:
venda online cialis
faut il une prescription pour le cialis
preço cialis brasilia
buying cialis tijuana
cialis price in saudi arabia
cheap cialis usa
prezzo cialis originale farmacia
cialis cheap in canada
cialis viagra levitra online
viagra price versus cialis